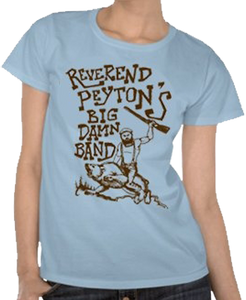 Rev Rides a Bear Women's Babydoll T-Shirt
Rev. Peyton rides a bear while brandishing an old west Stagecoach gun – Women's light blue Babydoll T-Shirt.

The only sizes we have available are the ones showing as currently available. This is a Limited Edition item and no more will be printed once these are sold. So, what you see available is all we have in stock.

SIZING NOTE: The style "Babydoll" denotes that these are sized smaller than a typical women's Tee. The sizes are more in-line with a youth sized Tee. Please keep this in mind when selecting your size accordingly.